Hi Rabbit Lover, Meet Achilles... ...he's the newest cutest 3lb addition to the RabbitMatch.org warren. : )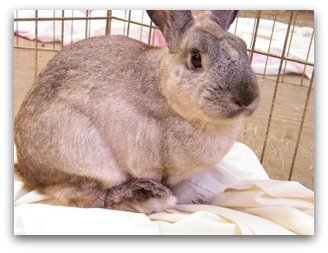 He came to Rabbit Match in very bad condition -- underfed and with a broken back leg and severe hock sores.
It was obvious he was a neglected bunlet and very scared.  : (
About a week ago, a Rabbit Match volunteer went to check a city shelter and found him.  He was in a cage on a wire floor without food or water -- along with a litterbox filled with poop, urine and no hay. 
Worse, he had severe hock sores and a broken (badly misshapen) back leg. He can't hop.
The staff hadn't even noticed the injuries. (Buns at city shelters are overlooked a lot.) He must've been really hurting on that wire floor…
But now he's with us at Rabbit Match. He's all cleaned up and on a Very Soft blanket.  : )
His hock sores are getting better but he can't hop because of his broken leg. (You can see the leg in an unusual position in his picture.)
He needs YOU...to hop again. Medical care, including X-rays, medications and surgery will cost $1,150.
So he really really needs you.
Your donation will bring Achilles' "hoppiness" back and keep us saving more bunlets like him.
Honor our furry bunkids everywhere on International Rabbit Day,
Sunday September 25th
by helping Achilles hop again.

Two easy ways to donate!
 
...or you can send a check to Achilles... made out to:
RabbitMatch.org/SEE Foundation
PO Box 642839
Los Angeles, CA 90064
  YOU make it all possible.  
Thank you for your generous gift.
We are a 501(c)(3) tax-exempt organization through a partnership
with SEE Foundation (www.SaveOurPlanet.org).